D.N.F.T.® Lloyd Portable Table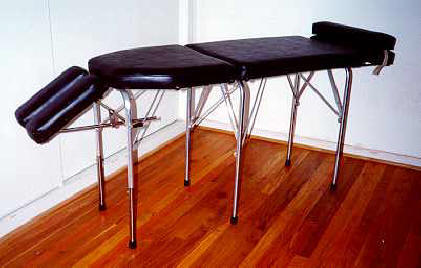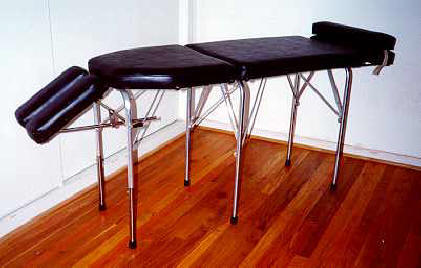 D.N.F.T.® Lloyd Portable Table
30" table height provides perfect balance of comfortable leg measuring, effective thrusting angles, and stability of table and patient.

Adjustable length ankle rest accommodates patients of different heights.

Tilt headpiece for effective cervical and upper thoracic analysis and adjusting.

Special add-on (w/velcrow) foot elevation piece for optimal prone & supine leg measuring. Enables leg checks on children and short adults.

New improved naugehyde covering for luxurious feel and durability.

New table design requires leg extensions (which are included) only on the front legs. The middle and back legs are solid and fold up directly for easy traveling.

Optional and recommended Navy Blue vinyl zippered carrying cover ($80).

A wide variety of colors are listed below (right). The most popular choices have been black, navy, and madder brown. Dr. John does not recommend Cardinal or Wine for doing D.N.F.T. Chiropractic

Weighs only 30 lbs.